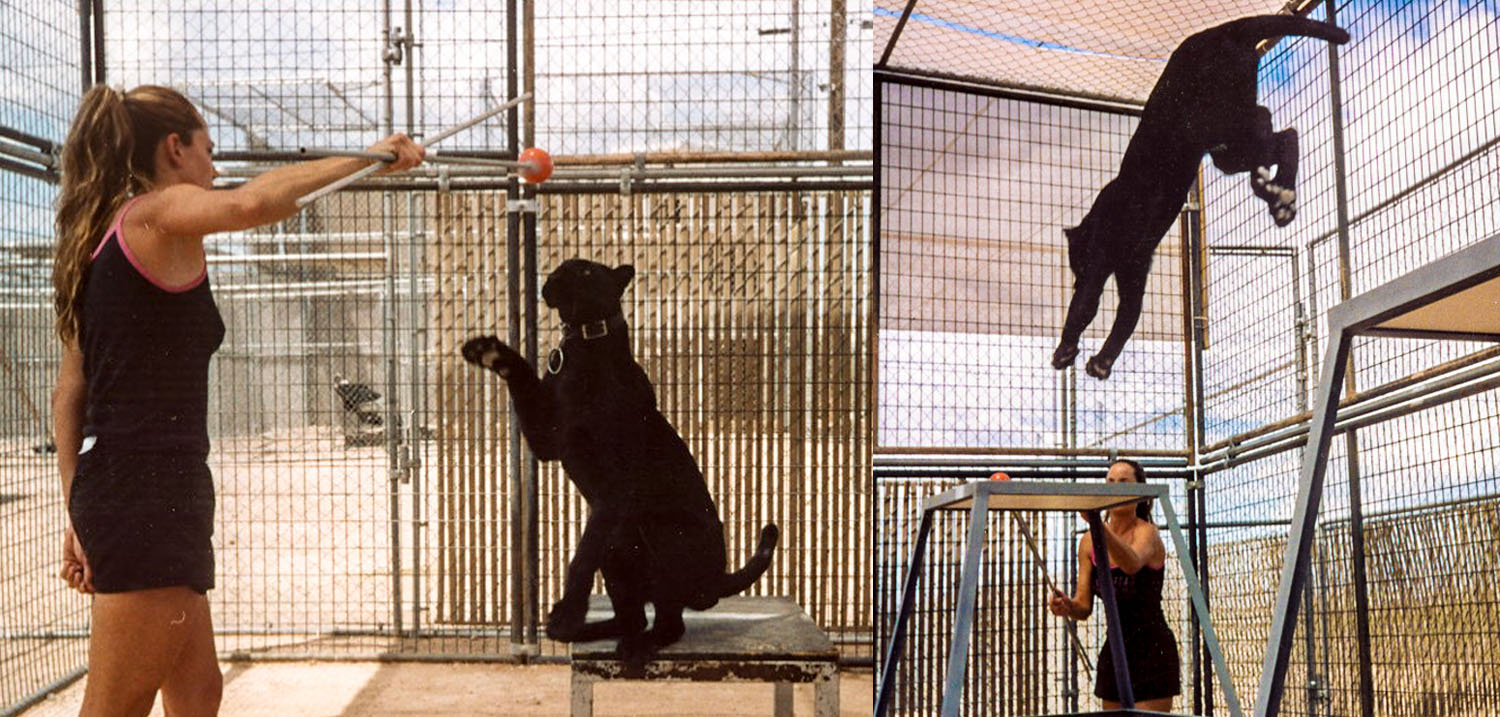 THE BIRDMAN and Company relies on behavioral science to communicate to animals. By engineering how and when food is delivered our animals, we encourage our animals to choose to perform the behaviors we ask. Utilizing extreme positive reinforcement and our best ability to read body language, a sort of mutual communication is established which builds trust and supports an energetic training environment. Quickly animals gain a feeling of having some control over their environment, also known as empowerment. Our wildlife and staff training approach can also help other facilities with behavioral management programs including educational program creation and management and training for husbandry and medical care. The Birdman will work with your training team to create programs for behavior management which support the specific goals
of your facility.
We tailor our services to the unique conditions and needs of your collection and offer a range of options which allows you to design the program best suited for your facility's resources, abilities and goals.
Educational Programs:
One great way to engage and inspire the public is with fun, exciting, and informative education programs. Education is most
effective when guests are actively involved in the experience. To foster this conservation attitude, it is important to provide  opportunities for visitors and program participants to take simple actions to become involved with conservation efforts and learn ways they can contribute to conservation locally and worldwide. In pursuit of this mission, we can help your facility create programs which are interactive, educational, and an overall exciting experience. The Birdman takes programs to the next level by offering multi-media stage settings along with advanced behaviors in a story-telling styled script. Audiences are so engaged in the story line they might not realize how much education they are absorbing. Instead of an overly simple factual keeper-talk format, The Birdman presents an intimate setting appearing to be a wildlife lover simply and spontaneously presenting the animals they love. This combination is the most effective approach to increase awareness about and promote action on behalf of wildlife and the environment.
Behavioral Management Programs:
If your facility is not able to host a large scale animal show presentation, The Birdman can still help you to reach these goals through alternative custom created programs such as in-display presentations, close-up animal encounters, and behind the scenes training demonstrations.
Staff Training:
The Birdman and Company can also help by evaluating of your facility's programs to help take them to the next level. This is done through teaching and encouraging your staff to surpass the zoological community's currant animal care and management standards. The Birdman is
committed to increasing the effectiveness of your education and training teams through:
1. Teaching the art and science of behavioral modification
2. How to use behavior goals and shaping to resolve captive care problems
3. Program concept to implementation
4. Team interaction effectiveness
5. Development of enrichment programs
6. Personal trainer mentoring in person and via internet.
Husbandry:
Positive Reinforcement training has an enormous impact on how animal caregivers work with and provide for their animals. In many other ways, training is a time saver and cost saver. Through training, Birds n Beasts Inc. can help train your animals to:
1. Accept new and varied food items
2. Feed with others and decrease aggression during meals
3. Make better use of exhibit space
4. Learn new motor skills
5. Have confidence with new objects and situations
6. Shifting their animals.
Medical Care:
Teaching animals to participate in medical exams is one of the most dramatic benefits of positive reinforcement training. Proper training is important in the reduction in physical and mental stress for animals. The Birdman and Company. can assist in teaching birds and animals to willingly participate in:
1. Full body inspections
2. Daily weighing
3. Ultrasounds
4. X-rays
5. Urine collection
6. Injections
7. Blood draws
Enrichment:
Enrichment is far more than tossing a toy or a plastic ball into an animal's enclosure. Enrichment is creating opportunities for animals to use their senses and adaptations to "earn" a living, something sorely missing in most static environments. Enrichment is providing animals mental as well as physical challenges and opportunities. It is giving animals power to make decisions and experience the consequence of those decisions. Enrichment should be about a program not a particular experience that an animal might tire of in a few seconds.
The Birdman enrichment program services include help with:
1. Creation of new formal enrichment program infrastructure
2. Assessment of your facility's exhibits
3. Creation/Development of progress recording methods
4. Development of enrichment item forms
5. Enrichment schedules
6. Creation of interpretive opportunities with enrichment experiences
Let The Birdman and Company help your facility reach all your goals!